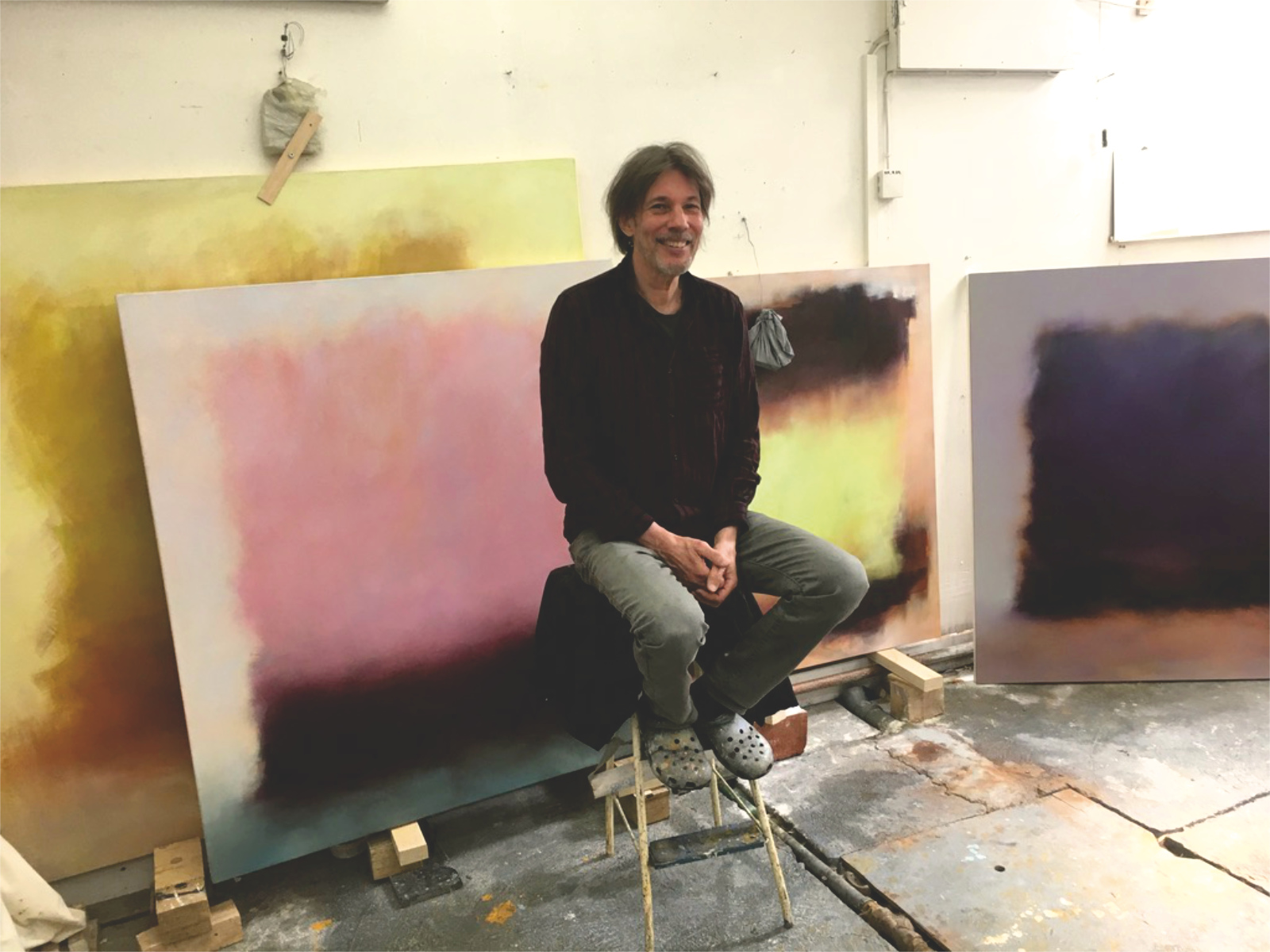 Tapani Hyypiä is a Finnish artist, who lives and works in Helsinki.
He has been active in the Finnish art field for over twenty years, with a dedicated painting practice. His artworks are heavily process based, with a focus on abstraction and a strong emphasis on the craft of painting. His paintings pursue the ephemeral meditative qualities of light and colour.
His methods of working include a special focus on the nuances of colour and purposeful repetition in the form of self imposed restrictions, where a recognizable form emerges again and again mutating from painting to painting. Hyypiä builds up each painting in a slow meticulous method of using several thin translucent layers in a delicate play between clarity and opacity, creating a deep and intense feeling of vibrancy.
He has exhibited his works extensively in Finland, and internationally with exhibitions in Estonia, Latvia and Germany. Recent solo exhibitions include; Paintings, Galleria Nuovo, Lahti, Finland (2019), Paintings & Drawings, Galleria Ama, Helsinki, Finland (2018) and recent group exhibitions include Summer Exhibition, Galleria Ama (2020), and The Collectors Gaze, Pori Art Museum, Finland (2019). He has also taken part in different artist residency programmes such as the Heinrich Böll Cottage on Achill Island, Ireland and at the WerkStadt in Berlin.
---
SELECTED SOLO EXHIBITIONS
2021  Utuisaa / Haze, Custom House Studios & Gallery, Westport, Ireland (Upcoming July 29 – August 22)
2019  Galleria Nuovo, Lahti, Finland
2018  Paintings & Drawings, Galleria AMA, Helsinki, Finland

2012  Galleria AMA, Helsinki, Finland

2009  Galleria Just, Turku, Finland
2007  Galleria Aarni, Espoo, Finland
2002  Galleria Uusitalo, Helsinki, Finland

---
SELECTED GROUP EXHIBITIONS
2020  Summer Exhibition, Galleria AMA, Helsinki, Finland

2019  With the eyes of my mind, The Collectors Gaze, Pori Art Museum, Pori Finland
2018  ooo collective, Lapinlahti Galleria, Helsinki, Finland
•  Rasi637, Kouta Gallery, Kouvola Art Museum, Finland
2017  Reflecting Rothko, Rietumu Bank Art Gallery, Riga, Latvia
2016  ooo collective, Mältinranta Gallery, Tampere, Finland
•  
ooo collective, Galleria Huuto, Jätkäsaari, Helsinki
2015  Landscape Metropolis, Gallery G11 at Former power station Rathenau Hallen, Berlin
•  Reunion, Poriginal Gallery, Pori, Finland
2014  Reunion, Porvoo Art Hall, Finland
2011  Post-session, Jetty Barracks Gallery, Helsinki
2009  SKjL 09: Finnish Art, Kouvola Art Museum
•  Never retire, Vantaa Art Museum, Finland
•  Painters 'Union's 80th anniversary exhibition, Amos Anderson Art Museum, Helsinki
2008  summer light, Gallery Leo, Helsinki
•  Luonnollisisa things, Art Brewery, Lahti, Finland
2007  The Quartet, Helsinki Artists' Association, 40th anniversary, Vuotalo, Helsinki
•  Deep Purple in 2007, SKjL's anniversary exhibition, Lapinlahti Art Museum,
2006  Echo,  Ahjo Art Centre, Joensuu, Finland
2005  SKjL 05: Finnish Art, Porvoo Art Factory
2004  New works of the Uusimaa arts organizations in collaboration with Porvoo Art Factory
•  Mode, Jetty Barracks Gallery, Helsinki, Finland
2003  Bits And Pieces, Poriginal Gallery, Pori
•  Power! Province of Uusimaa regional exhibition, Porvoo Art Factory 
2000  Bullseye, Free Art School Graduation exhibition, Helsinki
•  Gallery 3 h + k, Pori
2002  Near the surface, Brinkkalan Gallery, Turku Cultural Center
1999  Gallery Johan S. Porvoo
•  A Dozen Painters, Cultural Centre Stoa, Helsinki, Finland
---
EDUCATION
1996-2000  Fine Art Painting, Vapaa Taidekoulu (Free Art School), Helsinki, Finland
1984-85  English, Drama, Aesthetics & Drawing studies, University of Helsinki, FI
1974-75  Fine Art, Vapaa Taidekoulu (Free Art School) Helsinki, FI
---
GRANTS
2021  Finnish Cultural Foundation (Travel Grant)

2020  Taike (Arts Promotion Centre, Finland)
2018  Taike (Arts Promotion Centre, Finland), Exhibition Grant (ooo collective)
2016  Taike (Arts Promotion Centre, Finland), (Travel Grant)

2011  Taike (Arts Promotion Centre, Finland), Exhibition Grant
2005  Taike (Arts Promotion Centre, Finland), Exhibition Grant
2004  Alfred Kordelin Foundation, Working group grant
2002  Taike (Arts Promotion Centre, Finland), Regional Arts Council of Uusimaa, Working grant
---
RESIDENCIES
2021  Áras Éanna Arts Centre, Inis Oirr Island, Co. Galway, Ireland (August 2021)
•  Tuulensuu Ateljeetalo, Viitasaari, Finland
2020  Aspan Ateljee, (SKJL) Lohja, Finland
2019  Heinrich Böll Cottage, Achill Island, Ireland
2017  BetOnest, Artist in Residence, Stople/Oder, Brandenburg, DE
2016-17  WerkStadt, Berlin, Germany
2016  RASi637, Artist in Residence, Tirva, FI
---
PERMANENT PUBLIC ART WORKS / COLLABORATIONS
2006  Public Wall Mural "cave paintings", University of Helsinki (Kaisaniemi) metro station
---
PUBLIC COLLECTIONS
Pori Art Museum Deponointikokoelma / AJ
Finnish State Art Deposit Collection
Amos Anderson Art Museum
Finnish Art Society
Nurmijärvi Municipality
HUS (Helsinki University Hospital)
---
MEMBERSHIPS
Finnish Painters' Union
Helsinki Artists' Association